TruMe Wellness
Regular price
Sale price
$13.99
Unit price
per
Sale
Sold out
Pure and undiluted, certified organic, all natural plant based.
A blend of juniper, sage, cedar and vetiver to cleanse and purify your space.
Share
View full details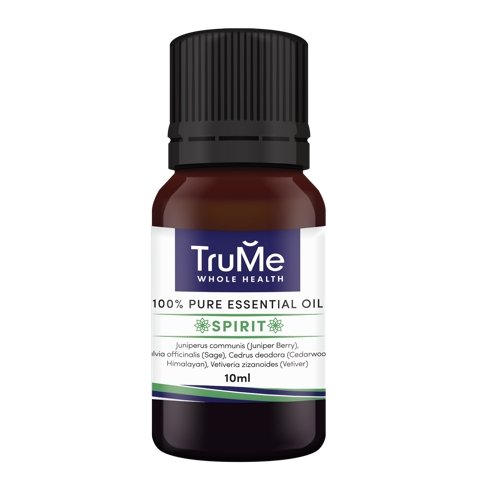 Why TruMe Essential Oils
Highlights

All natural plant based, certified organic, pure and undiluted.
Product Information

WHAT ARE ESSENTIAL OILS?

Essential oils are aromatic compounds that are derived from plants. These compounds provide a variety of therapeutic benefits by supporting your body's natural functions. Because they are highly concentrated, only a small amount of essential oil is required to bring about results. The soothing combination of the beautiful scents and your delivery method may relax and calm your mood or give you a burst of energy naturally. 

ESSENTIAL OILS CAN BE APPLIED VARIOUS WAYS: 

DIFFUSION A great way to wake up is to start your day with diffused oils. It may be for a burst of energy or just because you love the scent! 

INHALING You can put a few drops on the palm of your hand or place a few drops in a tissue and take deep slow breathes. 

IN A BATH Mix a few drops of essential oil with a tablespoon of a *carrier oil. A nice warm scented bath will calm and relax anyone after a long day. 

MASSAGE Mix 15-20 drops of essential oil with about ½ cup of a *carrier oil. A massage is a great self-care ritual, even by yourself by starting with your feet and working your way up. 

*A carrier oil is any oil you wish to dilute your essential oil with. 
Ingredients


A blend of juniper, sage, cedar and vetiver to cleanse and purify your space.

Juniperus communis (Juniper Berry), Salvia officinalis (Sage), Cedrus deodora (Cedarwood Himalayan), Vetiveria zizanoides (Vetiver)