TruMe Wellness
Regular price
Sale price
$31.99
Unit price
per
Sale
Sold out
TruMe Cherry Blaster is the perfect balance of tart and tangy. 2:1:1 Ratio, all Natural Branched Chain Amino Acids for Energy, Muscle Building, Post Workout Recovery and Endurance. (30 servings per container)
Stay hydrated and energized with TruMe BCAA Electrolyte Powder! This delicious, gluten-free, vegan and keto-friendly BCAA powder helps replenish electrolytes for superior hydration and performance. Power through your toughest workouts!
Share
View full details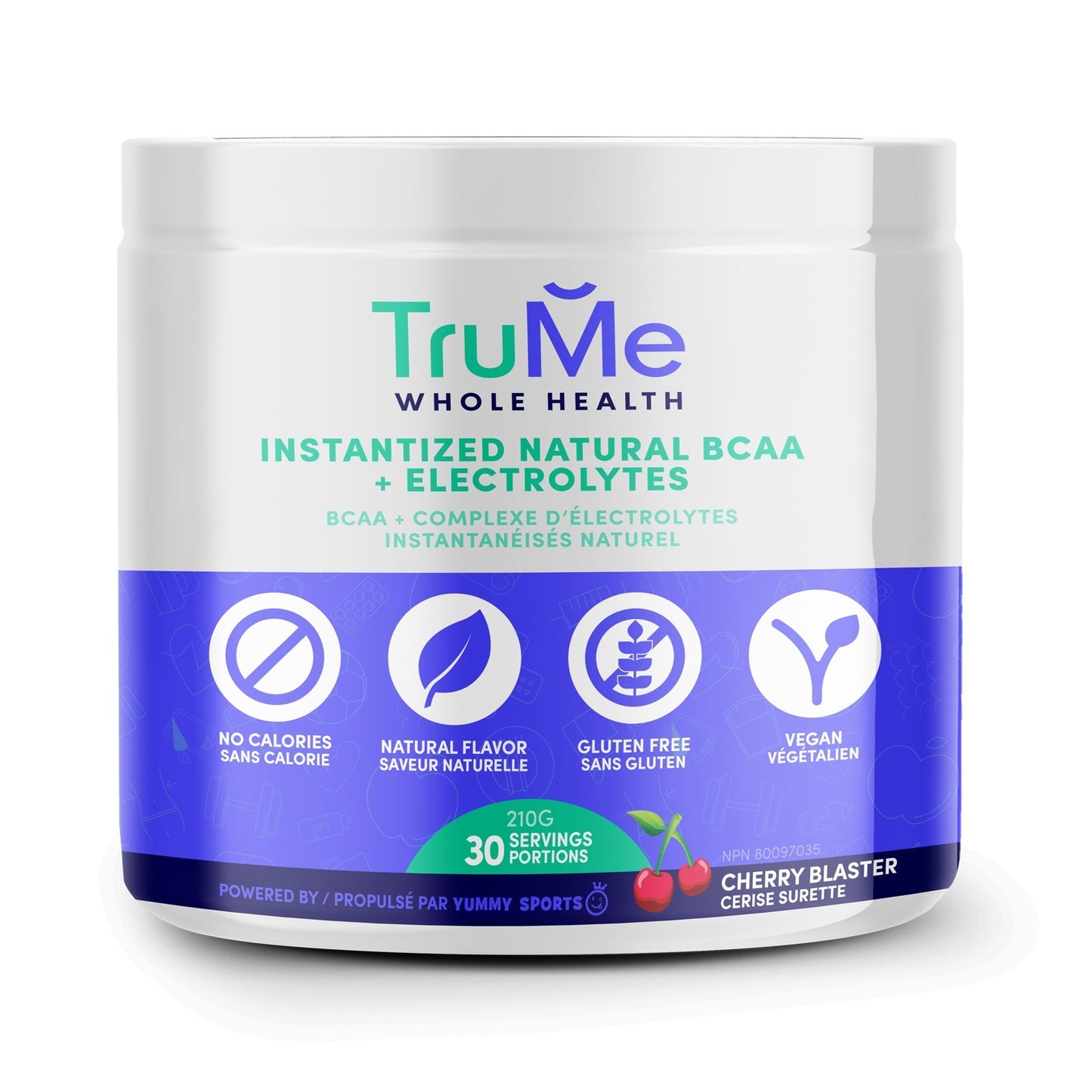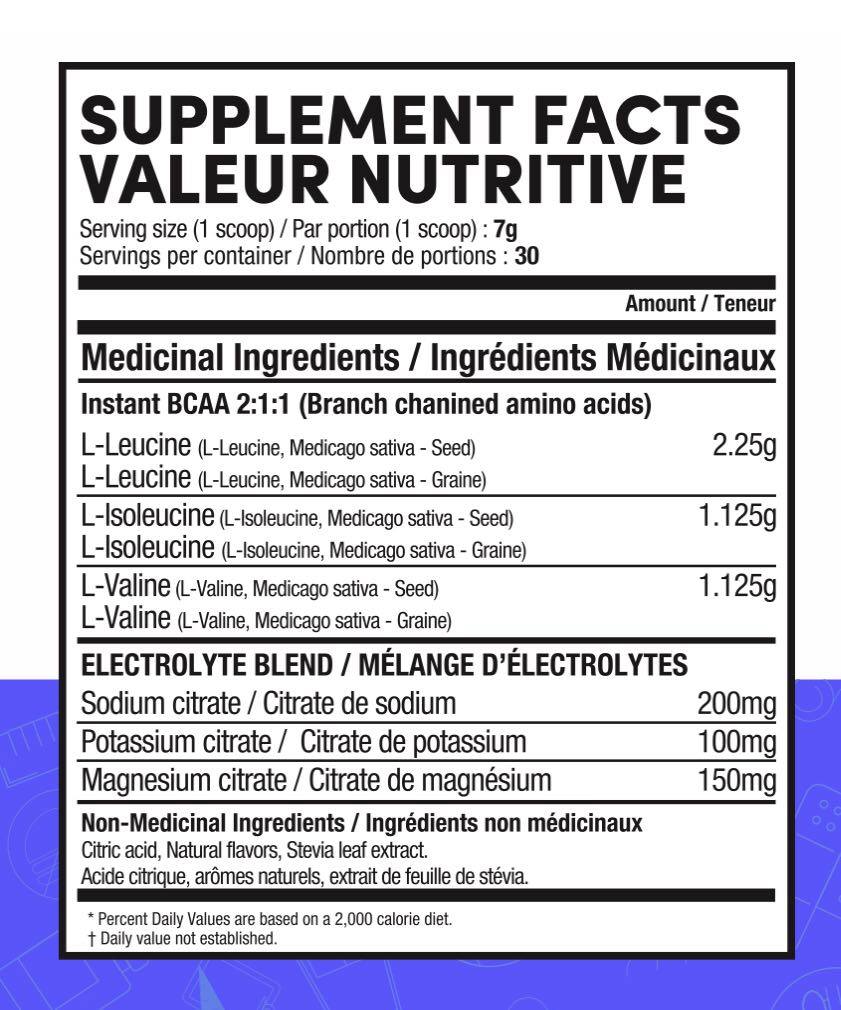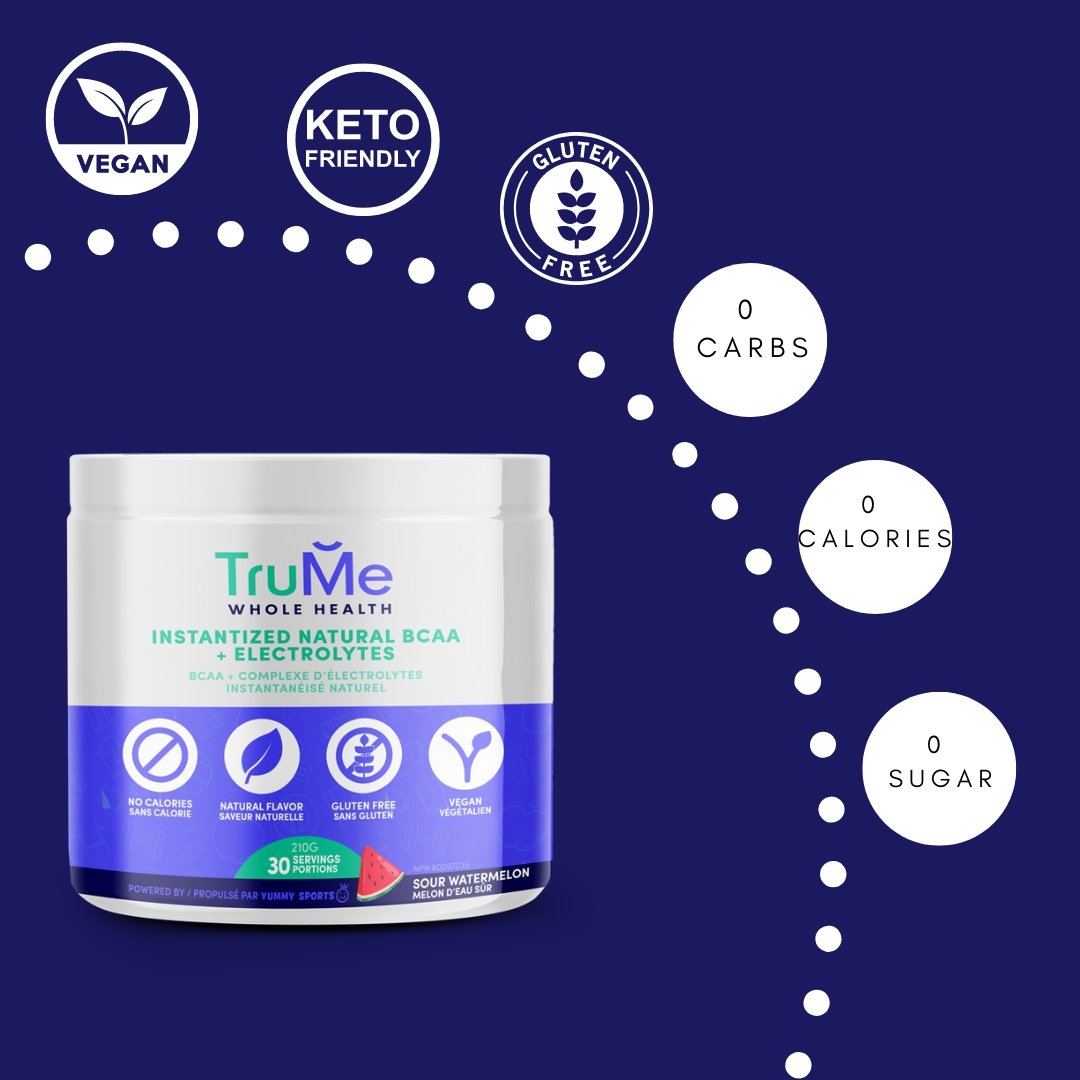 Why TruMe BCAA's + Electrolytes
Highlights

Our BCAA's + Electrolytes are produced in a GMP facility and are: gluten free, vegan, calorie-free and free of artificial colours, flavours and sweeteners. 
Product Information

WHAT EXACTLY ARE BRANCHED-CHAIN AMINO ACIDS (BCAAs)?

In order to rebuild and grow new cells, the body needs the building blocks of protein: amino acids. There are twenty amino acids in total; eleven of which are made in the body (non-essential) and nine that must come from our diet or supplements (essential). The Branched-Chain Amino Acids (BCAAs) are a group of just three essential amino acids: Leucine, Isoleucine and Valine.

WHY SHOULD I TAKE BCAAs?

The most common use is for muscle loss prevention, but the potential benefits go beyond as BCAAs can play several roles in the body.

MUSCLE LOSS PREVENTION

In some circumstances, fat loss is commonly accompanied by muscle loss.
BCAAs can help diminish muscle loss while the calorie intake is reduced, sparing lean muscle mass in favor of body fat.
Even without physical activity to stimulate muscle growth, consuming an adequate amount of BCAAs in your daily diet can lessen muscle protein breakdown.
Supplementing with BCAAs on a calorie-restricted diet allowed individuals to maintain muscle mass while still losing weight. INCREASE FAT OXIDATION FOR FAT LOSS
BCAA supplementation may help shift the body from using carbohydrates as the energy source to burning fat, called fat oxidation, which is particularly helpful for individuals trying to lose weight.

INCREASE FAT OXIDATION FOR FAT LOSS 

BCAA supplementation may help shift the body from using carbohydrates as the energy source to burning fat, called fat oxidation, which is particularly helpful for individuals trying to lose weight.

APPETITE SUPPRESSION

The branched-chain amino acid Leucine plays a direct role in appetite suppression.
Leucine stimulates mTOR, which is a growth factor for muscles. Supplementation with leucine plays a role in the brains' detection of nutrient availability.
As mTOR levels increase, the brain senses that nutritional needs have been met and signals of satiety are sent to stop eating more.

BCAAS SUPPORT IMMUNE FUNCTION

All three BCAAs perform individual and collective roles. Besides being necessary for protein production, they are also an important fuel source for these cells.

Individually, they play the following roles:

- Isoleucine increases levels of β-defensin, an antimicrobial compound.
- Leucine supports the body's general immune health and how it adapts to pathogens.
- Valine increases dendritic cell function which sounds the alarm and signals the presence of toxic substances in the body.

Caution: Consult a health care practitioner prior to use if you are pregnant or breastfeeding, if you have liver or kidney disease, or if you have been instructed to follow a low protein diet.
Ingredients
Didn't get full order
The product is great but it being in stock is another matter. Finally got it ordered and I got 2 of the 6.🤬
Love this stuff
All the flavors are delicious!
Great drink for the kids
This summer has been VERY hot. We give the kids on the soccer Team TruMe BCAA's instead of the usual sports drink for the electrolytes. This way, they don't have the added sugar and additives. They are also getting the benefits of BCAA's and don't get dehydrated. On our team, Cherry Blaster is the favorite and next is Sour Watermelon.
Energy boosting! Love it!
I have been using this product for a few months and it is part of my daily routine. Gives me that extra energy boost and I love to take it pre/post workout to help with muscle recovery. On days that I feel dehydrated the added electrolytes in the BCAA's really help with hydration. And I love that it doesn't contain any artificial sweeteners.
Great product
Perfect for my super intense workouts to help keep my energy levels up. Helps with my muscle recovery and love that the added electrolytes help to keep me hydrated.